At the Costa Rican Lutheran Church's shelter in San José, a baby's birth was welcomed with joy. The mother, who fled from Nicaragua to Costa Rica, had spent the last three months of her pregnancy at the migrant shelter and the baby boy became part of ILCO´s headquarters.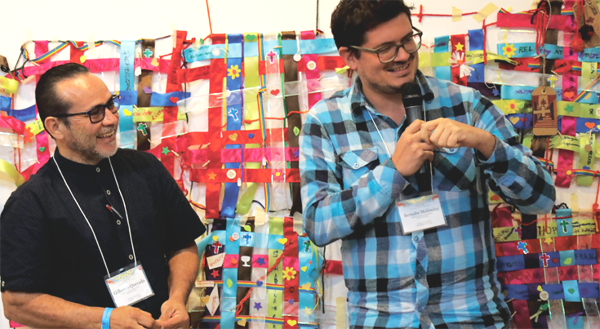 Gilberto Quesada Mora (left), president of the Costa Rican Lutheran Church, and Bernabé Meléndez Youth lider present their group's banner at the fifth international consultation, where they shared best practices for migration ministries.
This mother is one of many people who have experienced the Costa Rican Lutheran Church's warm welcome and support over the past 15 years of its migration ministry, providing safe housing, food and household items, legal aid and psychosocial care for trauma.
The Costa Rican Lutheran Church makes sure to look out for the most vulnerable people, including women with children and transgender people, and to prioritize their care. The key, Pastor President Gilberto Quesada said, is "being able to discern when a person, is a potential victim of intersecting forms of discrimination," which may put them at a higher risk". Quesada noted that the church has an "evangelical mandate" to care for people who have been marginalized and excluded from society. ILCO´s mission is to serve, to always be close to our neighbor, especially the most needy.
In November 2019, the Costa Rican Lutheran Church's refugee response work earned it the Living Integration Seal award from the United Nations High Commissioner for Refugees.
"We feel like we are an almost binational church, Costa Rican and Nicaraguan, because in some congregations 50% of the people are Nicaraguans," Quesada Mora said. "We are involved in this wonderful, highly supportive work."
By Cat Knarr at Living Lutheran
May 12, 2020