The Pastoral Trans at the Costa Rican Lutheran Church since its foundation on July 17, 2018, has been generating academic processes, which allow the Trans discourse to be approached from a valid theological basis, against the homophobic discourse of the churches and the society.

To open a new space for the spirituality of the Trans population, like the creation of the Trans Lutheran Community, has meant an approach to a living and loving God, a God revealed in the biblical message.
Formative processes are essential, especially when we think about such controversial issues as Sexual Diversity, which through inclusive formative activities promote dignity, discernment and communion between the Trans population.
As part of this academic formation, the Costa Rican Lutheran Church has been promoting biblical-theological formation with the leadership of the Communities of Faith, thanks to the financial support of the Church's scholarship program, which offers the opportunity to study in partnership. with different centers such as the National University of Costa Rica and the Latin American Biblical University.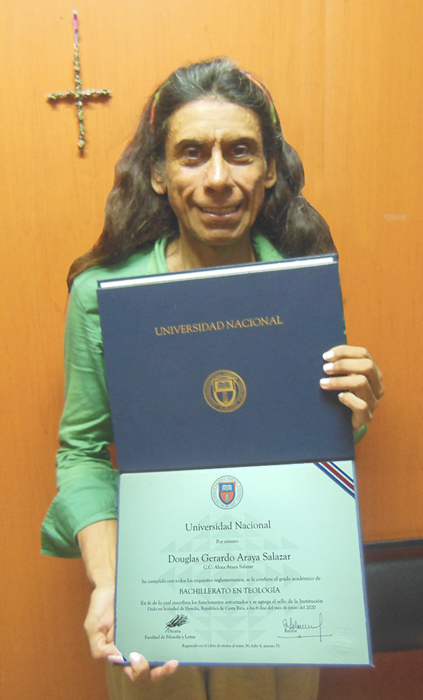 In this article we highlight the career of the student Alexa Araya, pastoral agent of the Trans Community, who recently completed her Bachelor of Theology studies at the National University, also being "Distinguished Student" with the best average of the Theology degree 2015 and now she is heading to ordination as a pastor.
What is the next step to follow on this path of theological formation?
"Now I want to present to the Church Board of Directors a request to carry out a vicariate, which is a one-year process of pastoral preparation and practice under the supervision of an ordained tutor or pastor, with the aim of reaching possible ordination. It should be noted that the vicariate is a supervised practice, which must also include a year of formation in topics of practical theology, liturgy, pastoral accompaniment, counseling, sacraments, ethics and other Lutheran pastoral issues "
Formation implies the integration of representatives of vulnerable and excluded groups in pastoral actions and from a contextual re-reading of the Bible, forming a group where actions of political, social and economic advocacy are promoted, but without forgetting the spiritual component.