In the facilities of center Manu in Guápiles, the Meeting for the Partnership of Cooperation and Brotherhood was held, where emphasized the Strategic Planning Process (PEP) that the Costa Rican Lutheran Church is promoting on its 25th Anniversary.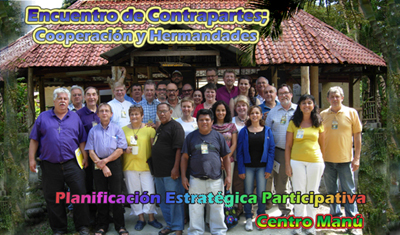 This important meeting was attended by representatives of the Lutheran Churches of the United States, Sweden, Bavaria of Germany (a World Mission), Lutheran World Federation and the German Counterpart Agency: Bread for the World. Also the Synod of Bishops of Southwest Texas and North Carolina attended as well as representatives of dioceses and parishes of Safle Vaxjo in Sweden.
To inform these groups of the national context, the Bishop Melvin Jimenez gave a brief presentation of the Church History and Mission, in the context of the Strategic Planning:
"This process is a long walk, with high expectations and the church has chosen the theme of Good Living, which is linked to the Biblical text:" To have life in Abundance. "This process is based on three substantive issues: Human Rights, Environmental Ethics, and a Policy for Advocacy "
The PEP is the instrument that will set a new horizon; the church can realize the motto of "Good Living" based on the expression of Indigenous Peoples in Latin America.
Here are some titles of topics discussed at the meeting and that support this alternative approach of being a church.
Other topics discussed were: The Kingdom of God and the Church, Martin Hoffmann, Future Agenda of Sustainability perspective, Gustavo Driau; Integral Mission, Carlos Bonilla and Abel Moya; ordering of the church, Lars Bjorskell and context of present and future Cooperation and Brotherhood, Pastor Stephen Deal.
Here is a short video that illustrates this fellowship of Brotherhood, which included various activities such as meetings, devotionals, Ash Mass, entertainment, cultural night, dancing, and a typical delicious meal at Manu Center.


Earlier this year the life of the Church will be marked by a daily commitment to promote good living in urban, rural, and indigenous communities and this is where the concept of the priesthood of all believers reminds us that there are no privileges of God's people, and that we all are able to follow Christ's offering testimony.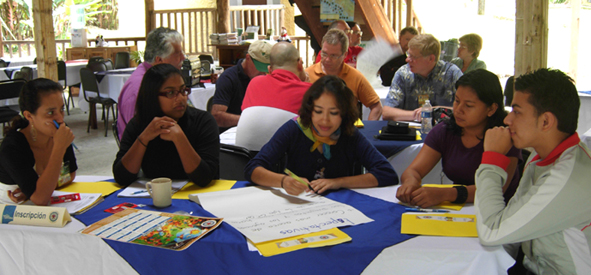 This has a profound meaning in the life of faith communities and their organizations where the struggle for justice, human rights, overcoming violence, the environment, and the promotion of a Solidarity Economy, leads to promote structures and mechanisms to facilitate sharing of gifts and resources.
From the above statements we define our mission as: "To follow Jesus, celebrating his presence and work, from His Word, Sacrament and Diakonia, Faith Communities, accompanying persons and excluded communities, the discriminated and the impoverished, from a comprehensive, prophetic and liberating participation in the construction of places of Justice, Peace and Integrity of Creation, as signs of the kingdom of God "
The group work was of great importance as it gave the opportunity to delve into the issues and jointly build recommendations based on the experience of everyone, helping to form the Mission, Vision and monitoring models.
Bishop Leonard Bolick of North Carolina Synod says in relation to the process of PEP:
"We are doing the same thing. Well, I believe that it is very important for a e church to ask questions, like what is God saying to us, what is God calling us to be or to do? And if we do not ask those questions we may never know to hear know what God is saying to us. We live in world that is changing so rapidly that we have to ask and listen to God, it means we have to schedule time to really think, time to pray, time to read scriptures"

Also, the Bishop Ray Tiemann of the Synod of Texas told us that:
"Every church body needs to be able to think ahead, to plan ahead so that you don't make the wrong steps when you move into the future. I think it is a good thing for ILCO to be going through this, so that every one has a change to take part, to be able to speak about what their concerns are. ILCO's ministry can be as wide reaching and is all inclusive as it can be"

To end the meeting was a devotional to thank God for the opportunity to meet brothers and sisters in a single effort "An Inclusive Living in Solidarity"
February 13-17 2013
Translation: Nicolette Filson