An inter-generational Mission Team from Kure Memorial Lutheran Church in Kure Beach, North Carolina spent a week learning from, serving with, and strengthening relationships with the day care communities of Casa Abierta in Alejuelita and La Carpio as well as the ILCO faith communities in Puriscal and Guatuso.
The following is a summary of our week, which included a work project, interaction with children at Casa Abierta and the women's handcraft group and other members of the church in Guatuso, as well as developing ways to continue in partnership together with these communities.
Day 1: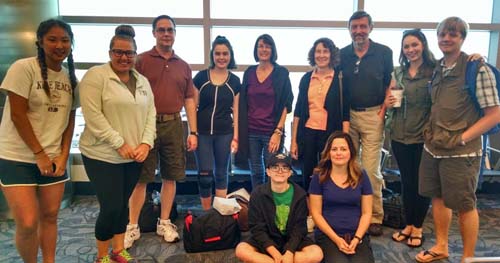 Upon arrival in San Jose, we stopped for lunch on the way to the hotel. We were at the hotel just long enough to move our bags into our rooms and then head out to Casa Abierta-La Carpio where we played with the children and visited with the staff. One highlight musical presentation from the children, led by Pastor Julio, who serves the ministry at the day care as well as being the pastor of the Lutheran Church in Guatuso! Pastor Julio taught the older children to play recorders, which they performed for us.
Day 2:
In the morning, we visited Casa Abierta - Alajuelita, the Lutheran daycare in the community of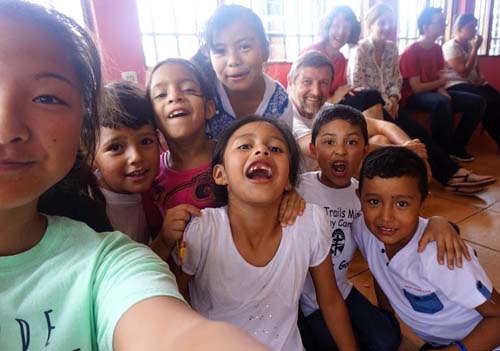 Alejuelita. Here we experienced a time of worship with the children, took a prayer walk through the neighborhood, and then spent some time playing with the children and visiting with the caregivers! It is in a neighborhood with lots of violence and child abuse. It is a very sad and difficult situation where these children live!
After lunch, we met with the ILCO staff to learn more about the challenges they face, as well as celebrating the ministry we share together and our growing relationship with the Casa Abierta - La Carpio. We also discussed ways to continue partnering with the communities in Puriscal and Guatuso. After a fun dinner at a local "soda" (restaurant), we experienced an "Inclusive" Worship Service with the gay/lesbian/transgender community, which is a group that is highly discriminated against in Costa Rica. Our closing time this evening was having conversation about seeing God at work in the places and people we met, as well as discussing the culture and communities we experienced. It was a full day!
Day 3: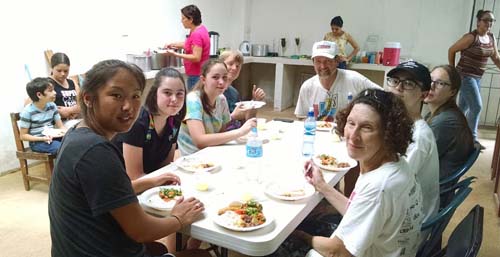 Today was our work project in Puriscal! Most of us traveled...literally over the mountain, which is a gorgeous drive by the way...to Puriscal where we painted the inside of their church and put stucco on the concrete block on one side of the building. This is the same church where we helped install a tile floor last year! We also played soccer with the children as well as had fun volleying a beach ball around! In addition, we explored their neighborhood a little bit to find a small store to purchase snacks and drinks! The owner of the store is the president of the Lutheran Church in Puriscal! She also is the one who prepared lunch for us! Haley, one of our preschool teachers at Kure Memorial spent the day at Casa Abierta - La Carpio to serve with and develop relationships with the children and caregivers at that daycare.
Day 4:
This morning we made the long journey to the indigenous community of Guatuso, up in the mountains in the northwest part of Costa Rica towards Nicaragua! (about a 4 hour trip!) We traveled through 3 different "ecosystems"...one of which is called a "cloud forest". A cloud forest is an area that is always cloudy...365 days a year! There is so much moisture and humidity, that there is moss growing on all the trees.
Anyway...the church here is in the community of the indigenous Maleku people . We experienced a cultural presentation, played with the children, learned to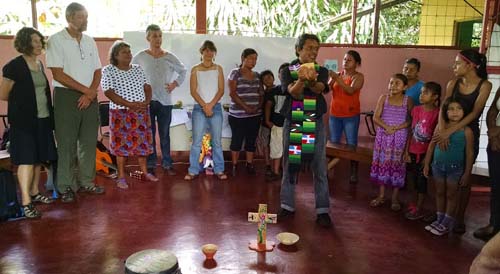 make the artisan crafts that are unique to their heritage (they are great teachers!)...along with having the opportunity to purchase the crafts they make! We visited these wonderful people last year as well. It was great to renew old friendships!
Days 5 and 6:
We experienced a wonderful time of worship with our friends in Guatuso and spent time visiting with them afterwards. We then took a long trip to the beach in Jaco for a day of relaxation experiencing another beautiful part of Costa Rica!
Day 7:
Much of our final day in Costa Rica was spent at Casa Abierta La Carpio! It was a great time with the children and staff! The children performed a song about Noah's Ark for us. They each had animal masks they made and wore while making that particular animal sound. It was very cute. And that was really a "God thing", because we had taken an activity about Noah's Ark along with the story in Spanish that several of the children took turns reading.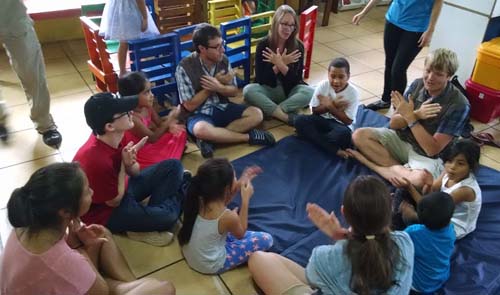 We also presented them with the banner we created, with hand prints from our preschool children as well as many of the folks from Kure Memorial! They loved it! It was hung up immediately. As we played with the children, doing a variety of activities with them, we had them come up 2 or 3 at a time to put their hand prints on a banner for us to bring back to display here at home, as a reminder of our partnership! It turned out great! The care givers are so excited and appreciative of our desire to further develop our companionship. And then, during lunchtime, we did a prayer walk in the neighborhood of Casa Abierta.
The evening was followed up with some shopping, dinner and a closing time of worship at the Lutheran Church office in San Jose, which included scripture, Holy Communion and reflections of our week.
It was an amazing journey, strengthening the relationships we began in 2015 and we looking forward to further developing them in the months and years to come!
A special thank you to Rodolfo Mena for his partnership in ministry, his great insights and his dedication to the ministry of the church!