The Costa Rican Lutheran Church is pleased to host every year, Brothers and Sisters of congregations of the Evangelical Lutheran Church in America (ELCA), who traveled to our country in order to share a Mission of Service with local Community Life. Team members also develop a Work Project and enjoy a Tour Day in some of the beautiful places in Costa Rica. In this article we share the Holy Trinity´s, summary.

Costa Rica Mission Team share stories of discovery and adventure.
Day 1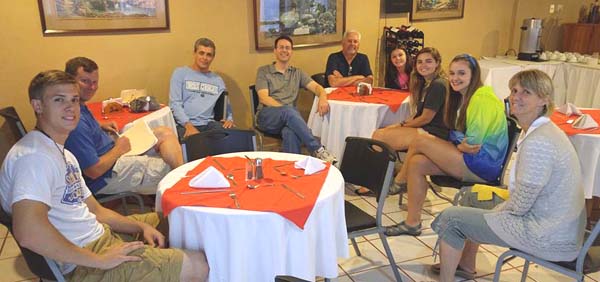 We have arrived safely down here in San Jose! After departing from the plane, we were greeted by our guide and translator, Rodolfo, who was appropriately wearing a tarheels shirt to help us find him. We then rode a bus to our hotel, Hotel Vesuvio, in downtown San Jose. We have received our schedule for the next few days and had an amazing dinner as a group tonight. When we were informed that we would be at the Lutheridge equivalent down here for a whole day, Van seemed to be very excited and had tons of ideas for activities ready for their youth. Even with our miminal knowledge of the Spanish language in our group as a whole, we are all eager and ready to work with the youth. We are all very excited to be down here and serve with the people of the Costa Rican community!
Day 2
After having a relatively uneventful day one, our day two was packed with worship, activities, walks, and getting to know the communities of Costa Rica.
Our day began with a trip to the ILCO headquarters. We delivered all of the donated fabric and other craft supplies to the women ́s group then proceeded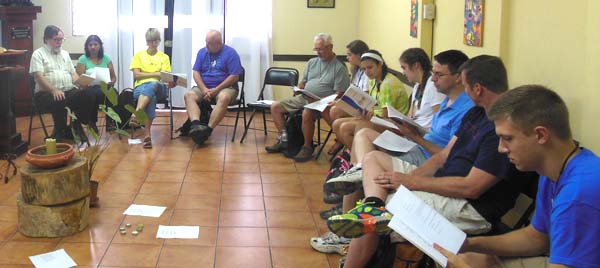 to have a worship service with their pastors and other members of the church. It was a very small and short service, but we were all able to get to know each other in the end. After the service, we were given a tour of their organic garden behind the facility that had an enormous amount of plants. These plants uses ranged from food, to mosquito repellent, to creams for sore muscles and joints, and medicine. With our guide having to go through some paperwork while we toured their garden, I (Jake Mahnke) was our designated translator. Let ́s just say that the translations were very loose, but we were all able to understand the different plants and their plants ́ uses in the end. For our final hour in the ILCO headquarters, we had a meeting with Pastor Gilberto where we learned about the past, present, and hopeful future of ILCO. He is hoping for strong, faith-based communities throughout Costa Rica as well as a continued connection with the ELCA.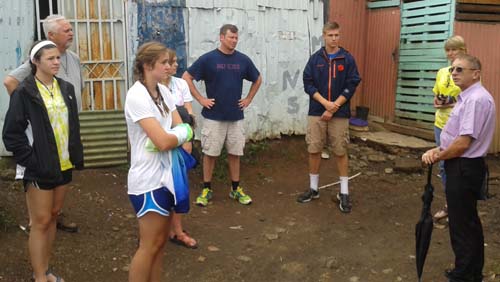 After leaving the ILCO headquarters, we took a bus to Casa Abierta. Casa Abierta is a day care center/school in a very poor region of Costa Rica called Alajuelita. There are about 20 kids there with four women teaching and taking care of these children. After they showed [us] a very entertaining song and dance, we took a walk through the community and witnessed what it was like in this region of Costa Rica. All of the houses were constructed of metal sheets, their was minimal electricity, but everyone we saw in there was very quick with a smile. We then headed back to Casa Abierta and played with the kids for about an hour. We thought they were very well behaved before leaving for our walk, but once we were back in the day care center, we knew they had been saving all of their energy for that hour. All of the kids were yelling, running around, jumping and playing and tired all of us out.
We then returned to Hotel Vesuvio in San Jose where we had yet another delicious meal. For post dinner festivities, we decided to play lots of card games. While everyone was having fun, Van seemed to end last in all of the card games and he was very vocal about his losing streak.
Day 3
Wednesday we led a program and joined in the Lutheran youth camp with 30 youth from 12-25 years old. It was like a summer camp day for me (Van Van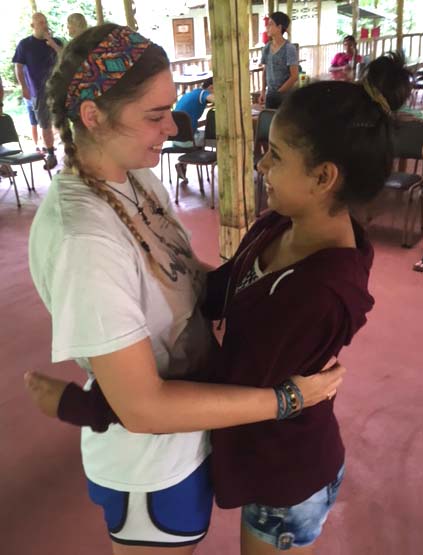 Horne) with plenty of rain included. Some of our youth connected with these kids so much in less than 24 hours. It was great to see that language barriers could not stop friendships from forming.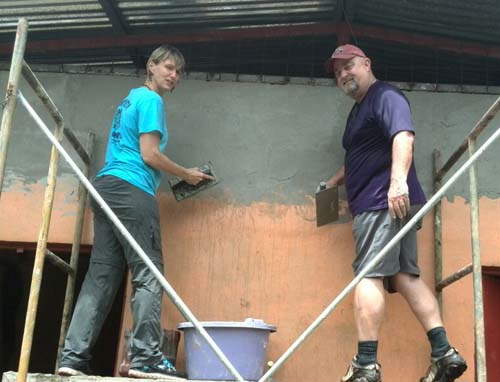 Day 4 and 5
We had a wonderful time with the youth at the beautiful Camp Manu. We were sad to leave our new friends so soon. From Camp Manu Thursday morning we headed for Chilamate. There we began work on a church. There was painting, concrete work, cleaning, sanding and much more [to do] all day. After a night in a very nice hotel we returned to the church [on Friday] for more work. Barbara Mahnke and Pastor Bill get the "Iron People" awards for spending both days working hard and almost all of it up on scaffolding. After some work on the house Jake [Mahnke] headed up playing with the 20 kids from the neighborhood. It was a tiring couple of days but certainly meaningful work.
Day 6 and 7
[After our work in Chilamate] we departed for the Pozo Azul Tents for a delightful evening of food and fellowship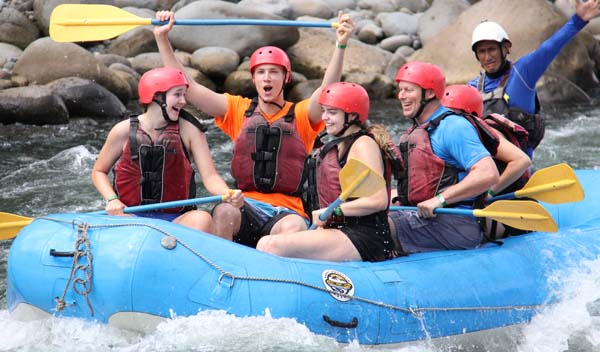 topped off with an early morning of listening to the Howler Monkeys. On Saturday we [had] an adventure of white water rafting followed by zip lining through the beautiful canopy of rich creation. We are now back in San Jose and getting ready for [Sunday] worship at ILCO.
The mission team included: Emily Arnold, Jason Arnold, Taylor Faherty, Barbara Mahnke, Jake Mahnke, Caitlin Sigmon, Richard Sigmon, Van Van Horne, and Pr. Bill Miller-Zurell.